Happy Tuesday!
Brrrrr...it's cold here in Kansas...the perfect day for hot sandwiches and/or soup.
This afternoon, I tried my hand at caramelizing onions to add to a store-bought package of French Onion dry soup mix. The onions turned out delicious and I thought I would share the process I used.
Caramelized onions aren't difficult to make, but they do require some effort and time to do right. You really can't "rush" the process otherwise you lose out on developing that sweet/nutty/savory taste that caramelized onions are all about.
So, let's begin!
I started with two large yellow onions. Don't worry...yellow onions are sweet enough to use. (Actually, any onion is acceptable because the process of caramelizing is the drawing out and browning of the natural sugar in the onion.)
I cut off one end of my onion and then cut in half.
Laying the onion on its flat side, I then began cutting thin ribbons/slices of onion.
Meanwhile, I began to warm canola oil (not extra virgin olive oil) in my frying pan with an equal amount of butter. I actually used about 1.5 tablespoons of canola and 1.5 tablespoons of butter. It is recommended that you clarify the butter....but I didn't! At this step, you can also add brown sugar to sweeten your onions. My recommendation would be to try them first...with out adding sugar. I find them sweet enough without additional sugar.
The trick with butter is that it burns easily...so you really need to keep your eye on the pan and level of heat...but I think it adds a rich flavor to the caramelizing process.
When oil/butter mixture was ready ( fats will ripple...be careful not to burn the mixture), I added my onions. I know this looks like a lot of onion...and normally it would be...but the caramelizing process really cooks the onions down. Don't worry...you won't have too many onions at the end!
As your onions begin to cook down and caramelize they will turn translucent and then begin to brown.
I added salt and pepper to the onion as they began to cook. This is about 5 minutes into the process.
Onions about 20 minutes into their cook time.
Another trick that I learned when making caramelized onions is that you need to babysit them...but not hover! Sort of like that tween that is too young to stay home alone...but doesn't really need a babysitter! :)
The entire process takes about 30 to 40 minutes depending upon amount of onions, heat level, and personal preference on color and texture.
As onions cook you want to be careful to not over stir them...yet, you don't want to walk away and forget about them, thus burning them black. You want a happy medium. That's why I stay in the kitchen and prep other things. I'm close enough to keep an eye and stir when necessary, but also occupied enough to not be constantly stirring them.
You actually want your onions to stick to the pan for a bit to create the dark color, and sweet nutty flavor. As your onions stick, gently scrape off with your spatula. You can also use a bit of white wine, water, or vinegar to deglaze (i.e. un-stick) your onions. Just be careful not to add too much water...you don't want to "steam" your onions!
This afternoon, I added my caramelized onions to my French Onion Soup mix. But they are also delicious on hot sandwiches such as roast beef with provolone or a traditional grilled cheese; top bruschetta, focaccia or pizza; or add them to baked potatoes, salad, rice, risotto, or polenta. They're also delicious on hamburgers, pork, or roast.
My "sort of" made from scratch French Onion soup.
Leftovers can be stored in a lidded container for 3-5 days in the fridge.
I hope that you are staying warm this Tuesday afternoon! I hear that 1/3 of the United States is covered in snow. No snow here in Kansas City, but it sure is cold enough for it to snow!
I'm linking up today with...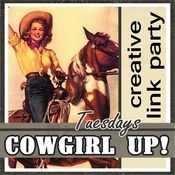 XXX OOO